You may be looking for her counterpart in the "Prison Break: The Conspiracy".
This article or section has been nominated for an update
The content should be updated to include new information that has been released, specifically Created by Matt Olmstead.
You can help Prison Break Wiki by updating it.

Rebecca "Becky" Gerber is the warden's secretary at Fox River State Penitentiary.
Biography
Edit
Even though she seemed to be a quiet secretary working for Henry Pope, she has an affair with Corrections Officer Louis Patterson. She once had sex with him in the guards room, nearly exposing the hole dug by the convicts. (1x9). Later, she was tricked by Michael in order to hide the gagged Pope as long as possible. (1x21) She helped find Pope when the C.O.'s found out that he was missing. (1x22)
Appearances
Edit
Episodes featuring Becky Gerber
Season 1
"Pilot"

"Allen"

"Cell Test"

"Cute Poison"

"English, Fitz or Percy"

"Riots, Drills and the Devil, Part 1"

"Riots, Drills and the Devil, Part 2"

"The Old Head"

"Tweener"

"Sleight of Hand"

"And Then There Were 7"

"Odd Man Out"

"End of the Tunnel"

"The Rat"

"By the Skin and the Teeth"

"Brother's Keeper"

"J-Cat"

"Bluff"

"The Key"

"Tonight"

"Go"
"Flight"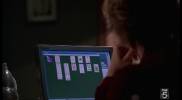 Becky while playing Patience in prison
Becky both played in the show and in the game, the game Patience.
Ad blocker interference detected!
Wikia is a free-to-use site that makes money from advertising. We have a modified experience for viewers using ad blockers

Wikia is not accessible if you've made further modifications. Remove the custom ad blocker rule(s) and the page will load as expected.