This article or section has been nominated for a cleanup
The content on this page may be out of place, overwritten, and/or contradictory.
You can help Prison Break Wiki by cleaning it up.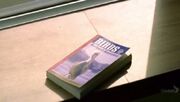 A
Birds Guidebook
, named
Birds of the Northwest Hemisphere
was withdrawn from
Banco de Versailles
by
Sofia Lugo
, as directed by
Whistler
, and was later taken by
Lincoln Burrows
.
Susan B. Anthony
later demanded the book from Lincoln but Lincoln gave her a fake copy instead of the real book. (
3x2
) It was used as a log to record his trip, so he can trace the steps back and find the guy whose whereabouts are being demanded by
the Company
. Inside the book are dates and phone numbers. (
3x3
) After the Company killed
Sara
, Lincoln hands the book to Susan. (
3x4
)
History
Season 3
Season 4
Appearances
Episodes featuring Birds Guidebook
Trivia
Ad blocker interference detected!
Wikia is a free-to-use site that makes money from advertising. We have a modified experience for viewers using ad blockers

Wikia is not accessible if you've made further modifications. Remove the custom ad blocker rule(s) and the page will load as expected.