Bob Hudson
Biographical information
Died:
Status:

Deceased

Cause of death:

Stabbed by
Theodore Bagwell

Physical description
Gender:

Male

Appearances

Season(s):
First appearance:
Last appearance:
Episode count:

2

Killcount
Indirect:
Other information
Created by:
Portrayed by:
Tyler Robert "Bob" Hudson was a father with a wife and daughter. Bob became a guard at Fox River and at the time of the Big Riot was tasked to bring Lincoln Burrows to the other side of the prison, where he was captured by Theodore Bagwell's gang and later given to T-Bag after being attacked. Bob was accidentally pushed by T-Bag into Michael and Sucre's cell where he fell into the toilet which he pulled from the wall. T-Bag later chose to kill Bob in order to not give a chance to tell the other CO's about the toilet.
Biography
Edit
Background
Edit
Bob had a wife and daughter and worked at Fox River later. Bob started working at Fox River when he was 18 years old.
Bob first appeared when he was in the room with Lincoln, Nick Savrinn and Veronica. However, whilst moving Lincoln to the other side of the prison Theodore Bagwell's gang found him and Lincoln. He released Lincoln from his handcuffs and then they were both attacked by the gang. and was given to T-Bag. T-Bag was then going with him around the cells, but he tried to escape. T-Bag then did beat him up, but he did wake up and T-Bag did pusht him in cell 40. He then going to the toilet, but did felt and T-Bag did discovered that Abruzzi, Sucre and Michael were escaping, after Abruzzi said that he should shut his mouth.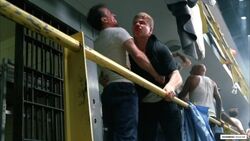 Bob Hudson being stabbed to his death by T-Bag
Bob was in the room with T-Bag alone watched by Gus Fiorello. Gus fiorello later told Henry Pope about the fact that they had him as a hostage. He told this via John Abruzzi, who was at the cells. T-Bag was then going to the wallet or Bob and found that his real name was Tyler Robert Hudson. T-Bag found a picture of his daughter, and Bob said that he should put it back. T-Bag did take the picture with him. When the riot was over, Bob was going away, but T-Bag stopped him and stabbed him, killing him.

Post-Death
Edit
Following Bob's death, Shauna Hudson was going to Fox River and cried about his death. Henry Pope gave Bellick to search for the killer. Bellick heard from someone that it was Charles Westmoreland and Bellick didn't want to get his relationship with Bellick done. Bellick later told him, that if he didn't listen to him, he would do something bad. Bellick later did kill Marilyn, but Bellick still didn't have his killer. Then came Seth Hoffner, who revealed it was Christopher Trokey. Trokey was then brought away to the SHU.
Michael was thinking about what he all had done including the fact that he let T-Bag killing Bob Hudson. At a later time in Panama, Michael was thinking about what T-Bag had done and thought about Bob's death.

Appearances
Edit
Etymology
Edit
Notes and references
Edit
Ad blocker interference detected!
Wikia is a free-to-use site that makes money from advertising. We have a modified experience for viewers using ad blockers

Wikia is not accessible if you've made further modifications. Remove the custom ad blocker rule(s) and the page will load as expected.