"Cruz Control"
Series
Season
Episode

4

Episode chronology
Previous episode
Next episode
Cruz Control is the 4rd episode of Breakout Kings Season 2.
Following a very clever breakout from the motor pool, the escapee takes off on a killing spree with reckless abandon until Lloyd realizes that, driven by his own fatal diagnosis, he is checking off a killing bucket list. He thinks of himself as an avenging angel, and it's up to the team to stop him and put an end to the violence.
Storyline
Edit
Appearances
Edit
Main cast
Edit
Guest cast
Edit
Goof (revealing mistake): Ray's bullets shatter Cruz's windshield but the damage only shows in shots from the car's interior, not in exterior shots.[1]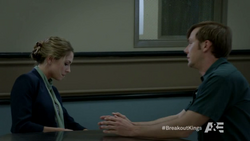 Julianne visits Lloyd in prison.
Lloyd Lowery makes a reference to Prison Break Season 1 about escaping. This is when he's talking about poker.
With this episode, Erica Reed officially defeats Charlie DuChamp as main character. She appears in 16 episodes, while Charlie appears in 15 episodes.
This marks the first time that Julianne visits a prison.
This marks the first time that Ray kills one of the Breakout Kings Main Villains.

This marks also the first time that a Breakout Kings main villain has his name in an episode, and ends up being dead by a main character.

This marks the first time that Ray kills in 2 consecutive episodes.
This episode aired at the same day as There are Rules in the Netherlands.
Notes and references
Edit
Ad blocker interference detected!
Wikia is a free-to-use site that makes money from advertising. We have a modified experience for viewers using ad blockers

Wikia is not accessible if you've made further modifications. Remove the custom ad blocker rule(s) and the page will load as expected.