Cyrus
Biographical information
Died:
Status:

Deceased

Cause of death:

Shot by Lechero

Incarcerated in:
Physical description
Gender:

Male

Appearances

Season(s):
First appearance:
Last appearance:
Episode count:

3

Killcount
Other information
Cyrus worked with Sammy Norino, Cristobal and Eduardo.
Biography
Edit
Cyrus appeared in the crowd, where he was seen by Lechero and Sammy, so that he could be a part of their new gang. Sammy brought him along with Cristobal and Octavio to Lechero's living place.
Post-Death
Edit
Appearances
Edit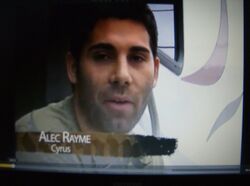 Alec Ryme as Cyrus
Ad blocker interference detected!
Wikia is a free-to-use site that makes money from advertising. We have a modified experience for viewers using ad blockers

Wikia is not accessible if you've made further modifications. Remove the custom ad blocker rule(s) and the page will load as expected.