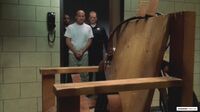 Lincoln is going to the electric chair
The electric chair is the chair in which Lincoln Burrows was supposed to die, however it didn't happen.
Lincoln Burrows was sentenced to the electric chair for the murder of Terrance Steadman, vice president Reynolds' brother. It was not completed due to his brother, Michael Scofield, breaking him out of Fox River. Burrows was exonerated was not sentenced to it after Kellarman testified against the Company.
General Jonathan Krantz was later put in the electric chair, because he was involved in the Company and setting up Lincoln Burrows for the death of Terrence Steadman.
Ad blocker interference detected!
Wikia is a free-to-use site that makes money from advertising. We have a modified experience for viewers using ad blockers

Wikia is not accessible if you've made further modifications. Remove the custom ad blocker rule(s) and the page will load as expected.