Europeangoldfinch.net
Europeangoldfinch.net
was a website used by
Michael Scofield
which could allow the
Fox River Eight
to communicate each other with. He also used this in the beginning of Season 4 to figure out if anyone knew where Sara was located.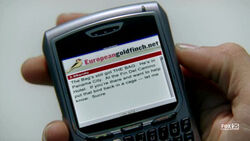 Appearances
Episodes featuring Europeangoldfinch.net
Season 2
"Manhunt"

"Otis"

"Scan"

"First Down"

"Map 1213"

"Subdivision"

"Buried"

"Dead Fall"

"Unearthed"

"Rendezvous"

"Bolshoi Booze"

"Disconnect"

"The Killing Box"

"John Doe"

"The Message"

"Chicago"

"Bad Blood"

"Wash"

"Sweet Caroline"

"Panama"

"Fin Del Camino"

"Sona"
Season 4
"Scylla"

"Breaking and Entering"

"Shut Down"

"Eagles and Angels"

"Safe and Sound"

"Blow Out"

"Five The Hard Way"

"The Price"

"Greatness Achieved"

"The Legend"

"Quiet Riot"

"Selfless"

"Deal or No Deal"

"Just Business"

"Going Under"

"The Sunshine State"

"The Mother Lode"

"Versus"

"S.O.B."

"Cowboys and Indians"

"Rate of Exchange"

"Killing Your Number"

"Prison Break: The Final Break"
Ad blocker interference detected!
Wikia is a free-to-use site that makes money from advertising. We have a modified experience for viewers using ad blockers

Wikia is not accessible if you've made further modifications. Remove the custom ad blocker rule(s) and the page will load as expected.