Gracey Hollander is the daughter of Susan Hollander and the sister of Zack Hollander.She was kidnapped by T-bag along with her brother.
She was portrayed by Danielle Campbell.
Biography
Edit
Background
Edit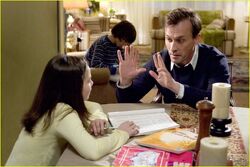 Appearances
Edit
Episodes featuring Gracey Hollander
Season 1
"Pilot"

"Allen"

"Cell Test"

"Cute Poison"

"English, Fitz or Percy"

"Riots, Drills and the Devil, Part 1"

"Riots, Drills and the Devil, Part 2"

"The Old Head"

"Tweener"

"Sleight of Hand"

"And Then There Were 7"

"Odd Man Out"

"End of the Tunnel"

"The Rat"

"By the Skin and the Teeth"

"Brother's Keeper"

"J-Cat"

"Bluff"

"The Key"

"Tonight"

"Go"

"Flight"
Charlie
Ad blocker interference detected!
Wikia is a free-to-use site that makes money from advertising. We have a modified experience for viewers using ad blockers

Wikia is not accessible if you've made further modifications. Remove the custom ad blocker rule(s) and the page will load as expected.