You may be looking for his counterpart in the "Prison Break: The Conspiracy".
Gus Fiorello
Biographical information
Alias:

Gus

Status:

Alive

Incarcerated in:
Physical description
Gender:

Male

Affiliation:
Appearances

Season(s):
First appearance:
Last appearance:
Episode count:

5

Killcount
Other information
Created by:
Portrayed by: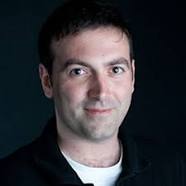 Gus Fiorello was Abruzzi's right-hand man at Fox River. Before becoming an outsider after a "taking over" attempt.
Biography
Edit
Background
Edit
From Italian descent inmate Gus Fiorello is the right hand man of mob boss John Abruzzi.
He's seen as the right hand man of John Abruzzi inside and acted like his bodyguard. During the big riot he's aware of Scofield' escape and he's assigned by Abruzzi to protect the young C.O Bob Hudson from T-Bag assault and guarded the entrance to Scofield's cell. When Abruzzi failed many times to find the whereabout of FBI snatch Otto Fibonacci, Falzone decided to promote Fiorello as the boss of Abruzzi's crew in the inside, in the hope of extracted information from Michael Scofield. Unluckely for Michael Scofield's gang, he took charge of PI too, in revenge Abruzzi grinds a broken light bulb into Gus's eye. After a scheme planned by Scofield and Abruzzi. Abruzzi recover his mob bos status inside the joint and turned Gus into an outsider.
Appearances
Edit
Episodes featuring Gus Fiorello
It's strange that Fiorello was aware of the hole in the cell of Scofield and never mentioned to Falzone that Abruzzi planned to escape, though he may have come after it was covered and assumed Michael and Sucre were simply somewhere else.

It's because that otherwise Abruzzi couldn't escape with Michael and his group.

He also was aware of Bob Hudson, but since he was seen from the window, the guards couldn't see him good enough.
Unknown to Abruzzi, Fiorello watched T-Bag allowing to torture Bob Hudson. Thus, he has a loyalty to T-Bag as well.
Gus was originally going to be played by the award-winning actor Jason Blundell, this was before Blundell found a job as lead zombies director at Treyarch.