Juan Nieves
Biographical information
Died:
Status:

Deceased

Cause of death:

Smothered by
Theodore Bagwell

Incarcerated in:
Physical description
Gender:

Male

Appearances

Season(s):
First appearance:
Last appearance:
Episode count:

4

Killcount
Kills:
Other information
Portrayed by:
Juan Nieves is one of Lechero's men in Sona in Season 3. He is responsible for dealing drugs. Nieves is killed by T-Bag to climb up the ladder. T-Bag made it look like a drug overdose, but he really put a bag on his head and made him suffocate in one of the cells in Sona.
Biography
Season 3

Nieves is smothered to death by Theodore Bagwell.
Post-Death
Following his death, Fernando Sucre used Kesslivol on the fence[1]. This would later made for the breakout of the Sona Four[2].

The first part of the break out plan works when Sucre put Kesslivol on the fence.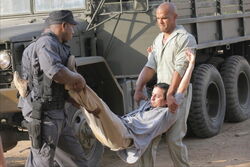 Nieves' dead body carried out by Fernando Sucre out Sona
Appearances
Trivia
Notes and references
See also
Ad blocker interference detected!
Wikia is a free-to-use site that makes money from advertising. We have a modified experience for viewers using ad blockers

Wikia is not accessible if you've made further modifications. Remove the custom ad blocker rule(s) and the page will load as expected.