This article or section has been nominated for an update
The content should be updated to include new information that has been released, specifically episode 4, created by Paul Scheuring.
You can help Prison Break Wiki by updating it.
This article or section has been nominated for a cleanup
The content on this page may be out of place, overwritten, and/or contradictory.
You can help Prison Break Wiki by cleaning it up.

Mary Francis is a Panamanian prostitute who disguised herself as a nun in order to get into Sona and provide services to Lechero. She is referred by Lechero as Mamí, Spanish slang for sexy female. (3x1)
Biography
Edit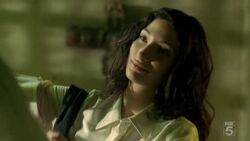 Mary Francis is taking on her clothes, before going away with T-Bag
Mary Francis was seen by Lincoln Burrows and a Sona guard as she was going inside Sona to sleep with Lechero. Mary Francis first saw Michael, Mahone and other Sona inmates during the orientatión.
Mary then was seen by Cheo, Papo, T-Bag and Sammy, while Mary was going to have sex with Lechero. After they had sex, a sound was heard and Lechero asked T-Bag to hide Mary as far as possible. T-Bag and Mary did hide, and she said that she was scared for Lechero, but T-Bag said that they were all prostitutes.
Mary later gave money to T-Bag. Mary then told she asked if it was the truth that Lechero died. T-Bag said it was and Mary gave him money by the fence.
She makes a return

Appearances
Edit
Episodes featuring Mary Francis
Season 4
"Scylla"

"Breaking and Entering"

"Shut Down"

"Eagles and Angels"

"Safe and Sound"

"Blow Out"

"Five The Hard Way"

"The Price"

"Greatness Achieved"

"The Legend"

"Quiet Riot"

"Selfless"

"Deal or No Deal"

"Just Business"

"Going Under"

"The Sunshine State"

"The Mother Lode"

"Versus"

"S.O.B."

"Cowboys and Indians"

"Rate of Exchange"

"Killing Your Number"

"Prison Break: The Final Break"

Prison Break Wiki
has a collection of images related to
Mary Francis
.
It's not known how she was going into Sona, possible via a secret way, since the inmates didn't know that Lechero did got a prostitute.
Mary was in love with 2 main characters: T-Bag and Lechero.

Mary along with Sophia Lugo were in love with 2 main characters, however T-Bag was send back to prison and Lechero died.
Ironically enough, T-Bag killed Lechero and used her to escape from prison.
Ad blocker interference detected!
Wikia is a free-to-use site that makes money from advertising. We have a modified experience for viewers using ad blockers

Wikia is not accessible if you've made further modifications. Remove the custom ad blocker rule(s) and the page will load as expected.