Nandu Banerjee
is the father of
Naveen Banarjee
. He is the Prime Minister of India. He is also one of the world's greatest scientists. He decides to declare war on China to avenge his son's death who is in reality killed by Christina.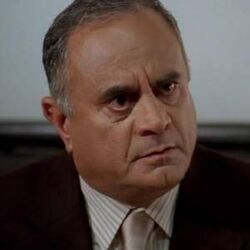 Biography
Edit
Appearances
Edit
Episodes featuring Nandu Banerjee
Season 4
"Scylla"

"Breaking and Entering"

"Shut Down"

"Eagles and Angels"

"Safe and Sound"

"Blow Out"

"Five The Hard Way"

"The Price"

"Greatness Achieved"

"The Legend"

"Quiet Riot"

"Selfless"

"Deal or No Deal"

"Just Business"

"Going Under"

"The Sunshine State"

"The Mother Lode"

"Versus"

"S.O.B."

"Cowboys and Indians"

"Rate of Exchange"

"Killing Your Number"

"Prison Break: The Final Break"
Ad blocker interference detected!
Wikia is a free-to-use site that makes money from advertising. We have a modified experience for viewers using ad blockers

Wikia is not accessible if you've made further modifications. Remove the custom ad blocker rule(s) and the page will load as expected.