This article or section has been nominated for a cleanup
The content on this page may be out of place, overwritten, and/or contradictory.
You can help Prison Break Wiki by cleaning it up.

Naveen Banerjee was a man who worked with Christina Scofield before he was killed. He was the son of one of India's most important minister and he was a very famous scientist.
Biography
Edit
Background
Edit
Naveen Banarjee was the son of Nandu Banarjee, India's Prime Minister.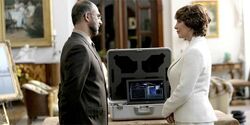 Naveen dealing with Christina
Post-Death
Edit
After his death, Christina Scofield talked with his father about him. Also, Lincoln and Michael were followed by police.
Appearances
Edit
Naveen's death marks the second time that Lincoln Burrows is in a crime (murdering Naveen) that he didn't commit. The first time was in Terrence Steadman's death.
Naveen's death marks the second time that Michael is involved in a death that he didn't commit. The first time was in William Kim's death.
Naveen's death marks the only time that both Alexander Mahone and Donald Self were involved in a murder they didn't committed.

Ironically enough, Mahone killed in the episode which he first appeared and both Mahone and Self did kill in the episode after his death.
Naveen is the second Indian to be killed on prison break after Marvin Gudat. The only difference is that Marvin Gudat was killed by a main character (Theodore Bagwell).

Coincidentally, both men were killed by Company men, although T-Bag didn't work for the Company at the time he killed Marvin Gudat.
Ad blocker interference detected!
Wikia is a free-to-use site that makes money from advertising. We have a modified experience for viewers using ad blockers

Wikia is not accessible if you've made further modifications. Remove the custom ad blocker rule(s) and the page will load as expected.