Octavio
Biographical information
Alias:

Caveman

Died:
Status:

Deceased

Cause of death:

Beaten to death
by Brad Bellick

Incarcerated in:
Physical description
Gender:

Male

Appearances

Season(s):
First appearance:
Last appearance:
Killcount
Other information
Created by:
Portrayed by:
Octavio was an inmate in Sona and one of Cristobal's thugs. He was first seen commanding Bellick to clean up a pile of vomit, but he refused and inadvertently made Octavio step in the vomit. Octavio, angered at Bellick, chicken footed him for not listening to his orders.
When Octavio and Bellick began the fight, Octavio was winning. However, Bellick arrived with his hands wrapped in cloth doused in acetone. Bellick shoved his hands to Octavio's nose and momentarily blinded him. Bellick took this opportunity to beat Octavio to a pulp, killing him.
Biography
Edit
Post-Death
Edit
Appearances
Edit
Octavio was first named as "Inmate 3", and thus an unnamed character.
Octavio is the first person who said World's name on-screen.
Octavio is the first character killed by Brad Bellick directly (Charles Westmoreland's death was an accident and 2 Company operatives died off-screen).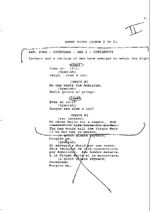 Octavio named in a script as "Inmate 3"
Octavio is the second person killed by Bellick who appeared in a season premiere. The first one is Charles Westmoreland.
Ad blocker interference detected!
Wikia is a free-to-use site that makes money from advertising. We have a modified experience for viewers using ad blockers

Wikia is not accessible if you've made further modifications. Remove the custom ad blocker rule(s) and the page will load as expected.