Oscar Shales
Biographical information
Died:
Status:

Deceased

Cause of death:

Shot by Alexander
Mahone

Physical description
Gender:

Male

Appearances

Season(s):
First appearance:
Killcount
Kills:

2

Other information
Portrayed by:
Oscar Shales was a fugitive that Alexander Mahone was assigned to hunt down. After Mahone found him in June 2004, Mahone killed him and put the body in his and Pamela Mahone's backyard.
Biography
Background
Despite all efforts Oscar Shales continued to elude the authorities and Mahone, he was known to change appearance. For one year Mahone remained on Oscar Shales hoping to catch the killer soon enough. During mid June Oscar Shales was apprehended by Mahone and he could not bear the fact of handing Shales over to the authorities because he raped, tortured and killed women. Mahone killed him and buried him in his front garden under a bird bath. Mahone was discrete about this and told no one. Mahone and Pam Mahone then separated from each other, with Pam taking custody of their son, Cameron Mahone.
Season 2
After Mahone was back in his office, he found a file about Shales. Mahone said Shales, and Mark Wheeler asked him what Shales had to do with it. Mahone said nothing and was then focusing himself on the Fox River Eight.
Mahone later discovered that Michael had found Shales in his backyard and Mahone looked in his backyard if the body was moved. A time later, in the Message video, Michael revealed that Mahone killed Oscar Shales, and also killed John Abruzzi, Tweener and Aldo Burrows.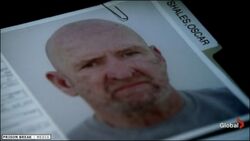 Oscar Shales' files found by Mahone
Season 3
Mahone thought about his death in his garden in Bang and Burn. Mahone did feel horrible about it, and also told Felicia Lang that he used pills for this.
Season 4
After Shales death was revealed to the public, the charges held against Mahone were dropped by Paul Kellerman for helping Micheal retrieve Scylla.
Appearances
Episodes featuring Oscar Shales
Season 2
"Manhunt"

"Otis"

"Scan"

"First Down"

"Map 1213"

"Subdivision"

"Buried"

"Dead Fall"

"Unearthed"

"Rendezvous"

"Bolshoi Booze"

"Disconnect"

"The Killing Box"

"John Doe"

"The Message"

"Chicago"

"Bad Blood"

"Wash"

"Sweet Caroline"

"Panama"

"Fin Del Camino"

"Sona"
Season 3
"Orientación"

"Fire/Water"

"Call Waiting"

"Good Fences"

"Interference"

"Photo Finish"

"Vamonos"

"Bang and Burn"

"Boxed In"

"Dirt Nap"

"Under and Out"

"Hell Or High Water"

"The Art of the Deal"
Etymlogy
Oscar does mean "spear of the gods".[1]
Shales meaning is mysterious since it's unknown what it really means.[2]
Trivia
See also
Notes and references
Ad blocker interference detected!
Wikia is a free-to-use site that makes money from advertising. We have a modified experience for viewers using ad blockers

Wikia is not accessible if you've made further modifications. Remove the custom ad blocker rule(s) and the page will load as expected.