Otto Fibonacci was the accountant for a warehouse which happened to be run by the mob when he witnessed Abruzzi commit the execution of two men. His testimony led to John Abruzzi's conviction and incarceration. Fibonacci and his family later entered the Witness Protection Program and went into hiding in Topeka, Kansas.
Biography
Background
Season 1
Appearances
Trivia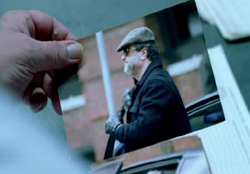 An unknown actor portraying Fibonacci
An unknown actor portrayed Otto Fibonacci in the Pilot episode.