Pamela "Pam" Larson (previously Mahone) is Alexander Mahone's ex-wife and the mother of his son, five-year-old Cameron Mahone.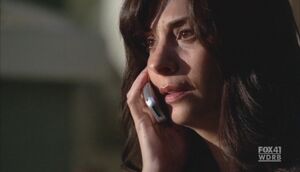 Biography
Background
The couple dated while Pam was in college, and were married for twelve years. From Pam's perspective, the relationship was good until Alex began acting strangely around the time of his pursuit of a felon named Oscar Shales, at which point he suddenly wanted her and their son out of the house. Although divorced, it is clear that Alex is still smitten with Pam. She seemed willing to give him another chance, agreeing to travel to Colombia to meet him. This meeting never took place, as Alex was arested and incarcerated in Sona prison in Panama. In their last telephone conversation, Alex told Pam to forget he ever existed.
Season 2
Season 4
Pam gives Mahone a gun which she tells him to kill Wyatt with. However, Mahone calls her, he is torturing Wyatt and tells Wyatt to say sorry to Pam, which he does. Pam then cries at this.
Appearances

This article or section is incomplete.
This page has been identified as needing attention. It does not currently meet the standards of quality set by the Prison Break Wiki community because it contains only a partial account of the topic and is missing important information. Please edit this page to expand it, or visit the article's talk page to discuss proposed additions.
Episodes featuring Pam Larson
Season 4
"Scylla"

"Breaking and Entering"

"Shut Down"

"Eagles and Angels"

"Safe and Sound"

"Blow Out"

"Five The Hard Way"

"The Price"

"Greatness Achieved"

"The Legend"

"Quiet Riot"

"Selfless"

"Deal or No Deal"

"Just Business"

"Going Under"

"The Sunshine State"

"The Mother Lode"

"Versus"

"S.O.B."

"Cowboys and Indians"

"Rate of Exchange"

"Killing Your Number"

"Prison Break: The Final Break"
Trivia
Pam's name when she was born was Pam Austin and revealed in Prison Break - The Classified FBI Files.
Unknown to Pam, she was indirect responsible for the death of Wyatt Mathewson and the deaths after Wyatt, by giving Mahone her gun, which he pointed at a man, who gave Wyatt Mathewson's phone-number.
Ad blocker interference detected!
Wikia is a free-to-use site that makes money from advertising. We have a modified experience for viewers using ad blockers

Wikia is not accessible if you've made further modifications. Remove the custom ad blocker rule(s) and the page will load as expected.