This article or section has been nominated for a cleanup
The content on this page may be out of place, overwritten, and/or contradictory.
You can help Prison Break Wiki by cleaning it up.
The following is a timeline of Prison Break and briefly describes what happened and when. Season 5 retcons the events, placing Michael's fake death in 2010 instead of 2005.
Timeline
1945
1946
1954
c. 1965
1965
c. 1970
1971
D. B. Cooper hi-jacked a plane and parachuted out with $5 million in cash.
1972
1973
1974
1976
1977
c. 1983
c. 1985
1987
1989
1990
1991
1996 - 1997
Between Sept 8, 1996 and Sept 8, 1997: Lincoln borrowed $90,000 to pay for Michael's university education.
2000
2001
2002
2004
December: Michael buys a boat and names it Christina Rose.
2005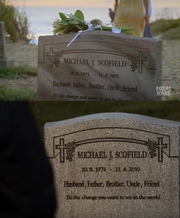 2006
June 13: Date of Mahone going to the juries.
2009
2010
November 4: The Miami-Dade breakout takes place. Michael fakes his death. ("Ogygia", retconned timeline)
2014
2017
Inaccuracies
The trailer for Season 3 says that the convicts are on the run for one year, simplified for viewers who haven't seen the show in a year's time (TV land time). In fact Season 2 in its entirety takes place within only a month.
Caroline Reynolds is a presidential candidate in Season 1, however the United States presidential election was, in the real world, scheduled to take place in November 2004, 6 months before she was sworn into office after her predecessor's assassination by the Company in "Flight ." In the same episode, Reynolds is mentioned as being the 46th President of the United States; from this can be surmised that, in the Prison Break universe, some Presidents did not serve a second term as they did in reality, where the 43rd President was serving a second term in 2005. In "Sweet Caroline," Reynolds runs again, in June 2005.
Originally, in Prison Break: The Final Break, Michael Scofield fakes his death in 2005. Season 5 alters the timeline so that Michael instead fakes his death in 2010.
Ad blocker interference detected!
Wikia is a free-to-use site that makes money from advertising. We have a modified experience for viewers using ad blockers

Wikia is not accessible if you've made further modifications. Remove the custom ad blocker rule(s) and the page will load as expected.