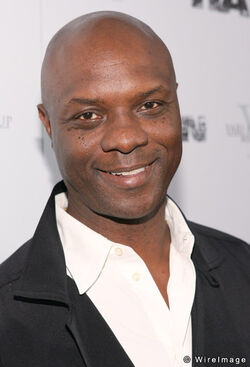 Robert Wisdom is the actor who plays the character Lechero in season 3 of Prison Break.
Biography
Early
He attended St. Alban's School in his hometown, Washington DC, and was the third child of Jamaican parents.
Filmography
Robert has been in a wide magnitude of both movies and TV shows, including....
Personal life
Robert was born and raised in Washington, DC. The middle child of three, born to Jamaican parents. He attended St. Alban's School in DC, then graduated from Columbia University in New York from Columbia with a degree in history and economics. He personally has a love for musical instruments, playing several percussion instruments, including the Cuban drums.
Trivia
Behind the scenes
Robert Wisdom discussed how he was cast on Prison Break this year, and his feeling that he would get the role because he had a strong understanding of the character[1].
Wisdom respects the other actors on Prison Break, and is impressed on how seriously they all take their jobs. Also, although he didn't watch it originally, when he was hired for the role of 'Lechero' he got the first two seasons on DVD, sped through them, and got hooked right away by the cat and mouse aspect of the first season and the expanded conspiracy of the second[2].
Notes and references
External links
Cite error: <ref> tags exist, but no <references/> tag was found
Ad blocker interference detected!
Wikia is a free-to-use site that makes money from advertising. We have a modified experience for viewers using ad blockers

Wikia is not accessible if you've made further modifications. Remove the custom ad blocker rule(s) and the page will load as expected.