Schweitzer is the name of the toilets in Fox River State Penitentiary.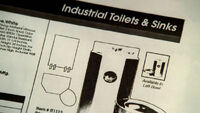 Schweitzer Toilet
Schweitzer was one of the parts in the plan. With the Allen could making an open place where he could going in the tunnels of Fox River State Penitentiary. This was part of Michael Scofields plan.
As can be seen in Theodore Bagwell's cell, there appears to be no more Schweitzer in the cell. It's been replace for a place to brush your teets.
Ad blocker interference detected!
Wikia is a free-to-use site that makes money from advertising. We have a modified experience for viewers using ad blockers

Wikia is not accessible if you've made further modifications. Remove the custom ad blocker rule(s) and the page will load as expected.