Sean Daniels
Biographical information
Born:
Alias:

Shea

Status:

Alive

Incarcerated in:
Prison(s) visit(s):
Physical description
Gender:

Male

Affiliation:
Appearances

Season(s):
First appearance:
Last appearance:
Episode count:

23

Killcount
Indirect:
Other information
Created by:
Portrayed by:
Stunt doubles:
Sean Daniels is one of the Breakout Kings members working for Ray Zancanelli and Charlie DuChamp along with Erica Reed and Lloyd Lowery.
Family
Biography
Background
Shea was born on 17 October 1979.[1] When Shea was 17 years old, he was starting a gang at Washington Heights in New York. At the age of 20, he was setting up New Jersey, Pennsylvania, and Connecticut. At the age of 23, his "franchise" was 40 cities in 32 states. Shea was going everywhere to find what he needed: weapons, stolen products and counterfeit merchandise. However, he was find, and captured for this crimes.[2]
When Shea was 5 years old in 1984, he became friends with Damani Johnson, a gangbanger (Where in the World is Carmen Vega).
At some point, he did met Carmen Vega, who he was doing business with.[3] At some point in his life, Shea did met Vanessa at some point in his life, with who he started a relationship.
Season 1
After Season 1
Lloyd along with Shea and Erica were send to a safe house along with their family to protect theirself for Carmen Vega's group for two weeks.
Season 2
Appearances
Trivia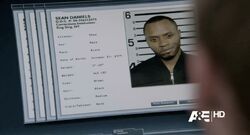 Sean's birthdate in the Pilot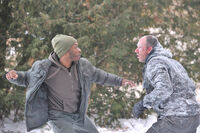 Shea beats up Xavier Price, who eventually captured after beating him up.
Shea has met all the main characters.
Shea is the only prisoner who captured a main villain: Xavier Price, by beating him up and then arrested him (off-screen).

Shea is the only character who has captured a main villain (Xavier) and a minor villain (Starla Roland).

Shea later also captured Rodney Cain, making him the only Breakout Kings member besides Charlie and Ray who captured more than 1 Breakout Kings main villain.

Shea is indirectly responsible for the arrest from Ronald Barnes by saying that "he was going with a boat, not with a plane".

Shea along with Ray Zancanelli knew someobody who escaped from prison. Shea did know Carmen Vega, while Ray captured
August Tillman prior to the show.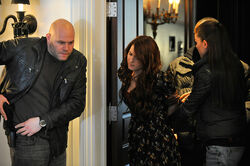 Shea along with Erica capturing Starla Roland.
Shea is the only character who knew about all the main characters problems except for Philly's.[4][5]
Shea lied about the elevator in which was Vanessa, unknown to Charlie DuChamp.

Coincidentally, Charlie saved Vanessa's life, which made Shea happy.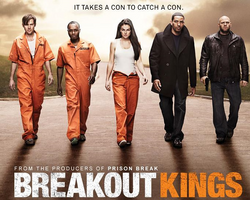 Sean Daniels prison number appears outside the show on a poster.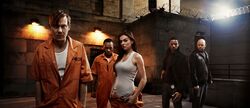 Sean Daniels prison number appears as 32 on the picture.
Shea is the only inmate who is responsible for the arrest of an inmate who was in the same prison as him: Ronald Barnes from Attica Correctional Facility.

Coincidentally, the two inmates never met each other in person.

Even more coincidentally is the fact that Shea was brought to prison where it was eventually revealed where Barnes was going to, meaning that Shea was the key in taking the main villain.

Shea along with Lloyd are the only Breakout Kings members who were not replaced or removed from the team.

Although Shea was removed from the team in There are Rules, he was still part of the Breakout Kings team, since he informed them the location from Ronald Barnes.

Malcolm Goodwin's credit Sean Daniels.
Shea's prison-number is 32589 and another possible number. The number is maybe from Sing Sing, since Shea did wear different clothes in the episodes featuring Maybelle and in the episode There are Rules (Attica).

Shea prison-number was also revealed on the Pilot episode. It's high likely that it's then either from Maybelle or Attica.

The most likely is Maybelle, since the fact they all 3 wear the same clothes.

Shea's character get's his credit before that of Erica Reed and is after Julianne Simms in the Breakout Kings openings theme.
Shea is the only one who committed 2 crimes during the shows: the first one was when Vanessa was in the elevator and Shea was kissing with her (he said to Charlie that the elevator was stuck, but Julianne did know better) and the second time was when Shea gave her a ring (from Andre Brennan).

Coincidentally, Shea also had a cigar in his hand along with Lloyd, but they could keep it from the Marshalls.

Shea is the only Afro-American left in the show as main character since Charlie DuChamp died.
Shea has never used a computer (Paid in Full).
Shea can drive a car (Pilot and Cruz Control).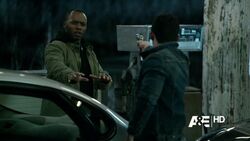 Shea, while talking to August Tillman.
Etymology
Sean does mean "God is gracious" or "gift from God".[6]
Shea does means "admirable".[7]
Daniels does mean "God is my judge".[8]
Behind the scenes
Main character images
Notes and references
External links
Ad blocker interference detected!
Wikia is a free-to-use site that makes money from advertising. We have a modified experience for viewers using ad blockers

Wikia is not accessible if you've made further modifications. Remove the custom ad blocker rule(s) and the page will load as expected.