Are you sure about this name?

The title of this article is conjectural. Although it is based on canonical information, the actual name is conjecture and may be supplanted at any time by additional information released from canonical sources. If this occurs, please move this page to the appropriate title.
This article or section has been nominated for a cleanup
The content on this page may be out of place, overwritten, and/or contradictory.
You can help Prison Break Wiki by cleaning it up.
Infobox needed
This article needs a new infobox template.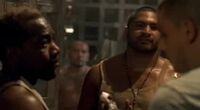 The inmate sees the set-up
This Sona inmate saw the set-up from Lechero.
Biography
Edit
Appearances
Edit
Episodes featuring Unidentified Sona Inmate (10)
Season 3
"Orientación"

"Fire/Water"

"Call Waiting"

"Good Fences"

"Interference"

"Photo Finish"

"Vamonos"

"Bang and Burn"

"Boxed In"

"Dirt Nap"

"Under and Out"

"Hell Or High Water"

"The Art of the Deal"
Ad blocker interference detected!
Wikia is a free-to-use site that makes money from advertising. We have a modified experience for viewers using ad blockers

Wikia is not accessible if you've made further modifications. Remove the custom ad blocker rule(s) and the page will load as expected.