Veratril was a drug Mahone used to suppress the traumatic memories of Oscar Shales and other victims he killed including Tweener and Haywire. He developed an addiction to Veratril, If he didn't use any for more than 3 days then his mental health will become unstable and he will suffer extreme withdrawal symptoms. . In the episode, Good Fences, Mahone experienced paranoia, spasms, agitation and hallucinations of Charles Patoshik, because he couldn't resupply when he was arrested in Panama. Veratril (referred to as a benzodiazepine in S2:E19 "Sweet Caroline") cause the sensation of "walking underwater" (Dr. Sara Tancredi).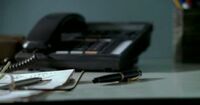 The pen Mahone stored veratril in.
Mahone finally breaks his addiction to Veratril while in Sona.

Mahone dispenses a veratril pill from his pen
Felicia Lang brought veratril to the court house, but threw it away in a garbage bag. Mahone didn't know that Felicia had it with her.
Appearances
Edit
Episodes featuring Veratril
Season 2
"Manhunt"

"Otis"

"Scan"

"First Down"

"Map 1213"

"Subdivision"

"Buried"

"Dead Fall"

"Unearthed"

"Rendezvous"

"Bolshoi Booze"

"Disconnect"

"The Killing Box"

"John Doe"

"The Message"

"Chicago"

"Bad Blood"

"Wash"

"Sweet Caroline"

"Panama"

"Fin Del Camino"

"Sona"