Will Clayton
Biographical information
Born:
Died:
Status:

Deceased

Cause of death:

Blunt force trauma
to the face and torso

Physical description
Gender:

Male

Appearances

Season(s):
First appearance:
Last appearance:
Killcount
Other information
Created by:
Portrayed by:
Will Clayton was the illigetimate son of Henry Pope whom he had with another woman while he was married.
Biography
Edit
Background
Edit
Will Clayton was the illigitame son of Henry Pope and Mrs. Clayton. Will used drugs and wouldn't listen to the authorities. Will was born in 1976[1], because he died on 15 July 1998. He was 22 years old when he died. Judy Pope, Henry's wife didn't know that his son died and that he had a son after all.
Post-Death
Edit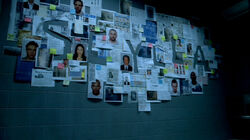 Will Clayton on the bottom in the middle of Michael's dream
After his death, Paul Kellerman and Daniel Hale manipulate, Will's father, Henry Pope to do something not with Michael Scofield. Henry told Michael that he would be transferred, but later told Michael that he won't being transferred and eventually told Judy Pope about his son (off-screen).
In Michael Scofield's mind, Will Clayton appeared from the English, Fitz or Percy episode. It's never revealed, how Michael was aware of Henry Pope's son.
Appearances
Edit

A young Will Clayton
Notes and references
Edit
Ad blocker interference detected!
Wikia is a free-to-use site that makes money from advertising. We have a modified experience for viewers using ad blockers

Wikia is not accessible if you've made further modifications. Remove the custom ad blocker rule(s) and the page will load as expected.