This article is non-canon.
This article covers a subject that has been deemed non-canon by either the author or the Prison Break licensees, and thus should not be taken as a part of the "real" Prison Break universe.
Infobox needed
This article needs a new infobox template.

Williams is a Corrections Officer who worked at Fox River State Penitentiary. He appeared in Prison Break - The Conspiracy (Game).
Biography
Edit
Prison Break - The Conspiracy
Edit
Williams did first appeared when he brought the new inmates to Brad Bellick. Williams was also mentioned to clean up the blood from the wall. Williams appeared again after Tom Paxton came back from the infirmary to look at Scofield's medical records and saw that he used PUGNAC. Williams later appeared with Brad Bellick, Henry Pope and Moore. Williams was then said to clean up the blood. Williams then said he didn't clean up the blood. Willliams and Moore then were searching in the dark. Williams also appeared when Paxton give him his laundry. Bellick said to Moore and Williams that they have to clean up the mess. Moore and Williams then were talking about how long it will take until the Pope discovers that Bellick is behind this. They then said two weeks.
Appearances
Edit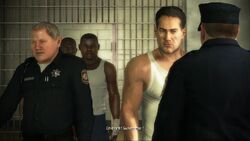 Williams name on his badge.
Behind the scenes
Edit
Williams was a character made especially for Prison Break - The Conspiracy (Game), which is non-canon. Williams voice was may done by an uncredited voice actor.
Ad blocker interference detected!
Wikia is a free-to-use site that makes money from advertising. We have a modified experience for viewers using ad blockers

Wikia is not accessible if you've made further modifications. Remove the custom ad blocker rule(s) and the page will load as expected.