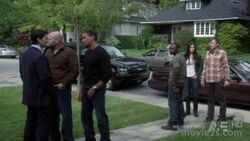 Zach Stoltz
Zach Stoltz was played by Frank Grillo[1] [2].
Biography
Edit
Breakout Kings
Edit
Appearances
Edit
Episodes featuring Zach Stoltz
Season 1
"Pilot"

"Collected"

"The Bag Man"

"Out of the Mouth of Babes"

"Queen of Hearts"

"Like Father, Like Son"

"Fun with Chemistry"

"Steaks"

"One for the Money"

"Paid in Full"

"Off the Beaten Path"

"There are Rules"

"Where in the World is Carmen Vega"
Notes and references
Edit
Ad blocker interference detected!
Wikia is a free-to-use site that makes money from advertising. We have a modified experience for viewers using ad blockers

Wikia is not accessible if you've made further modifications. Remove the custom ad blocker rule(s) and the page will load as expected.